The client's needs
Greenfield Global required a sustainable WFI Generation and Distribution system for their new cGMP manufacturing facility in Portlaoise, Ireland. The facility provides a range of Pharmco branded bioprocess solutions and high purity alcohols and solvents using both USP/EP purified water and WFI (Water for Injection). Greenfield Global were committed to maintaining the highest possible standards and ensuring the solution highly sustainable. Their aim was to build a carbon neutral facility and Veolia's approach to sustainability and the use of alternative methods of generating WFI suited their needs.

The solution
A new skid-mounted Cold WFI Generation & Distribution system was designed and supplied by Veolia. The new generation system is fed from the existing Orion 2000 Pretreatment system previously installed by Veolia. Cold WFI is supplied via the distribution system to three user points in the existing facility.

The system uses pretreatment RO, CEDI and UF to achieve the Cold WFI specification as per USP/EP Pharmacopoeia. The system is routinely hot water sanitised at 85°C for the validated time period. The system consistently meets and exceeds the WFI specification.

A service contract was agreed with the client following the high quality installation, which will ensure the performance and efficiency of the skid, minimise equipment failures and downtime, optimise operating costs and ensure regulatory compliance.
Overall we had a very positive experience with Veolia Water Technologies. Veolia were able to provide us with the ideal solution to meet our needs and the project ran smoothly from start to finish. The team were a pleasure to work with, from the Project Engineers, Back Office team and Service and Commissioning Engineers.

Hubgrade
The skid was also fitted with Hubgrade, our digital solution that provides a combination of digital tools and Veolia expertise to deliver operational and environmental  efficiency. Hubgrade Essential allows the customer to visualize data from the skid in real time, monitor and respond to any events or alarms, provide regular reports and give an overview of maintenance tasks.

Process description
The solution comprises a Pretreatment Skid, an Orion Skid followed by a UF Skid. All items supplied to site were skidded and FAT tested, resulting in minimal installation time on site and a reduction in SAT testing on site. The Pretreatment skid was designed with duplex pretreatment steps for 100% uptime. The Orion Skid is a Multi-Technology skid-mounted unit comprising of softening, reverse osmosis and CEDI. The skid is hot water santised routinely to ensure microbial compliance is guaranteed.

The UF skid comes complete with UF membranes with a Molecular Weight Cut off of 6,000 Dalton to guarantee the Endotoxin specification for WFI. The UF skid is hot water sanitised routinely and comes complete with TOC monitoring. The European Pharmacopoeia states that for the Production of Cold WFI routine monitoring of Conductivity and TOC is required. The Cold WFI Solution offers the site a number of advantages over traditional distillation methods of generating WFI including being more energy efficient than distillation, lower costs and not requiring a complex system design.

Results
Following the installation, commissioning and validation of the Cold WFI skid, Greenfield Global are very happy with the performance of the system. The system has performed as expected, ensuring a cost effective, sustainable supply of Cold WFI. The System meets EP /USP specifications outlined below:
 
Water for Injection (WFI)

 

Eur. Pharm. (EP)

USP

Conductivity
≤ 1.1 µS / cm (20° C)
≤ 1.3 µS / cm (25° C)
TOC
≤ 500 ppb

Bacteria

≤ 10 CFU / 100 ml

Endotoxin

≤ 0.25 EU / ml
Heavy Metals
≤ 0.1 ppm as Pb
n/a
Nitrate
≤ 0.2 ppm
n/a
Aluminium
≤ 10 ppb
n/a
Production Method
Membane or Distillation
Membane or Distillation
The client
Greenfield Global Portlaoise - Greenfield Global's state-of-the-art, cGMPmanufacturing facility in Portlaoise has been in operation since 2020 with a focus on providing both regional and global life science customers with mission critical chemicals and ingredients. The site offers Pharmco branded bioprocess solutions and high-purity alcohols and solvents.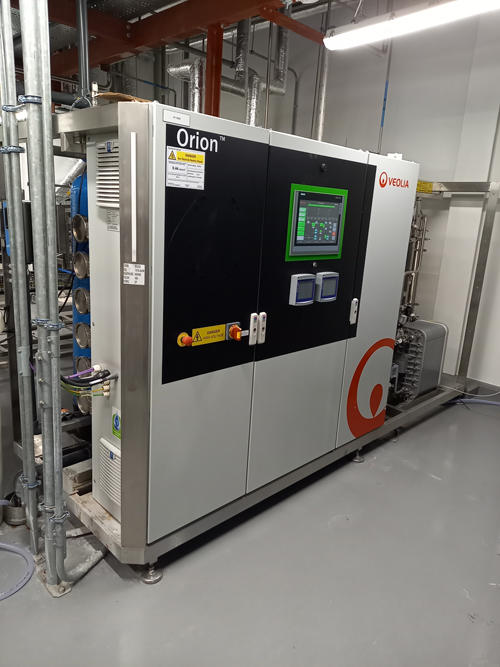 Cold WFI
Negated the need for steam generation on site
More cost effective than Hot WFI
Less space needed
Lower energy usage
Smaller system footprint
Recent Changes to European Pharmacopoeia WFI monograph to allow cold membrane solution