A constant supply of quality water is crucial for the microelectronics industry. Ensuring the reliability of water services in terms of quality, quantity and continuity is a priority.
Innovation and regulation: challenges faced by the electronics & photovoltaics industry Cutting edge and innovative technologies to produce ultrapure water. Treating wastewater, recovering products, and recycling and reusing water. Better resource management and water conservation.
How Veolia is committed to helping its electronic and photovoltaic clients  
Semiconductor fabrication, for example, involves several steps of photographic and chemical processing, during which electronic circuits are gradually created on wafers made of pure semiconducting material. The upstream manufacturing of silicon wafers, from ingot growing to wafer slicing and polishing, is critical to the final quality of the finished products and requires a large amount of high-purity water.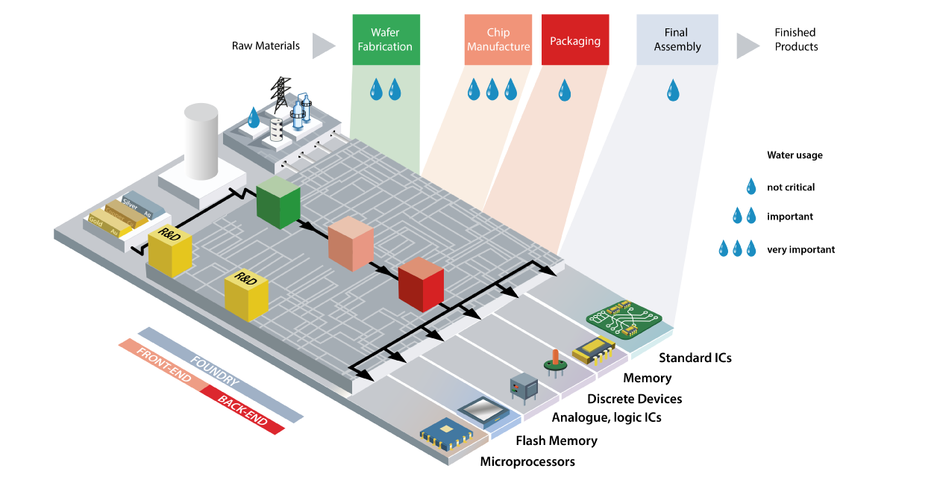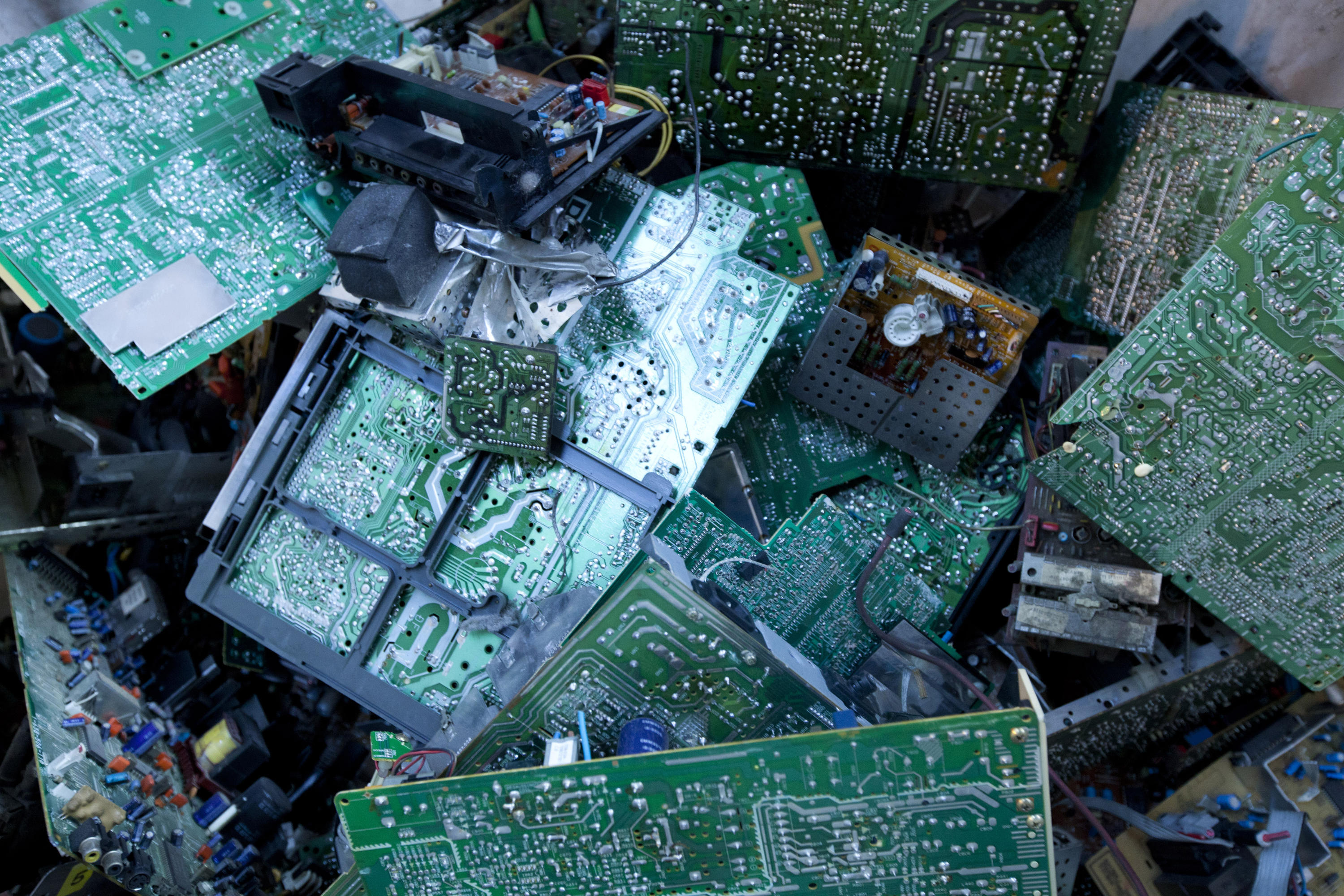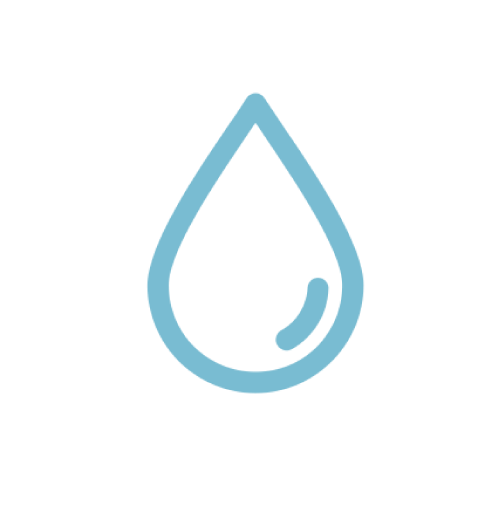 Manufacturing an integrated circuit on a 300-mm wafer requires approximately 8,328 litres of water in total, of which 5,678 litres is ultrapure water.  
The semiconductor industry spends approximately $2 billion on water and wastewater treatment systems every year. 
Source: Global Water Intelligence (2009) Pure Water, Semiconductors and The Recession
Electronics and microelectronics sub-markets such as TFT-LCD, hard drive, photovoltaic, and printed circuit board (PCB) require modern and accurate water systems and wastewater solutions, as water is the main potential source of contamination. 

The creation of a photovoltaic module, for example, goes through several critical steps, including the initial refining of silicon, its crystallization and the shaping of the plates. In addition to large quantities of water injected during these preliminary phases, the resource also plays a critical role in the subsequent stages, that is the creation of the cells and the final assembly of the modules.
 
Adaptable solutions for all electronic and photovoltaic players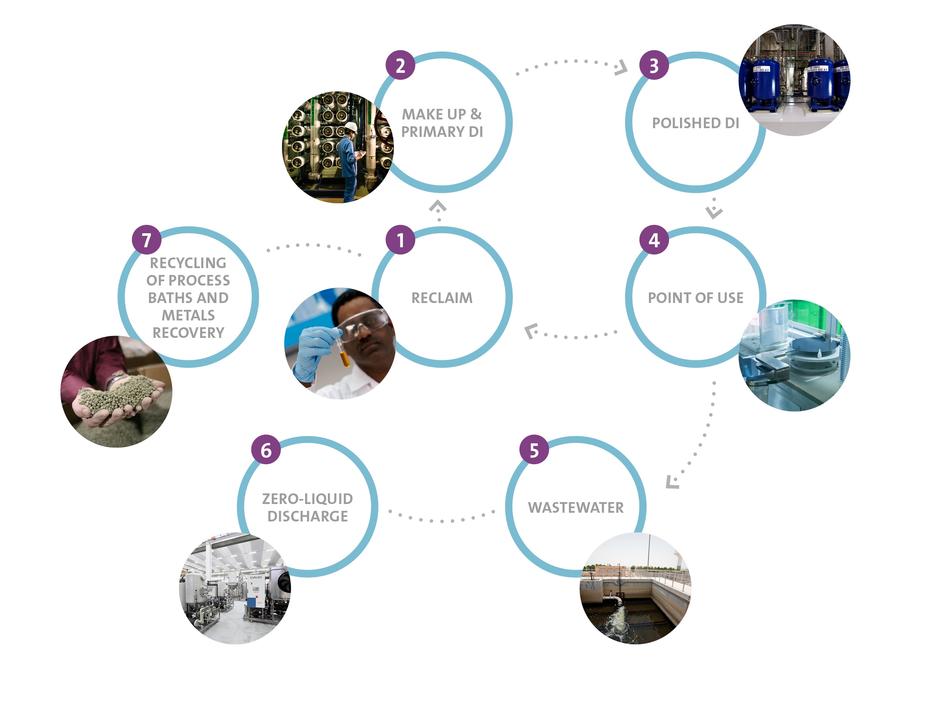 Veolia Water Technologies has unparalleled experience and the capability to process the entire water cycle in a facility, from ultrapure water to wastewater and recycling and reuse.
Our advanced technologies are designed to deal with the significant challenges faced by the semiconductor manufacturing process.
Electronic and photovoltaic clients that trust Veolia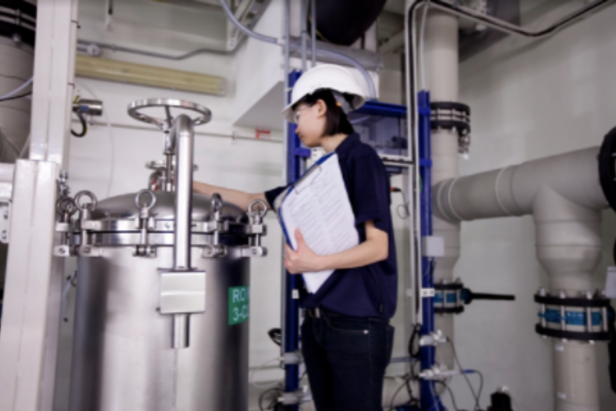 Designing a full water treatment system for Soitec wafer fabrication plant
SINGAPORE
Veolia Water Technologies designed and built the ultrapure water and wastewater treatment plants for the Soitec wafer fab in Pasir Ris, Singapore.
We offered cost-effective solutions by combining two grades of high-quality water and ensured constant highly purified water, chemical-free solution by using continuous deionization technologies. 
Discover our water treatment technologies for electronic and photovoltaics industries
Dependable ultrapure water of the highest quality is absolutely crucial for the microelectronics industry to improve production yield.  Along with production goals, actors of this industry have set high goals in terms of sustainable development and environmental footprint; compact and efficient wastewater treatment solutions paired with sustainable, forward-looking water reclaim and recycling solutions can help reach these goals.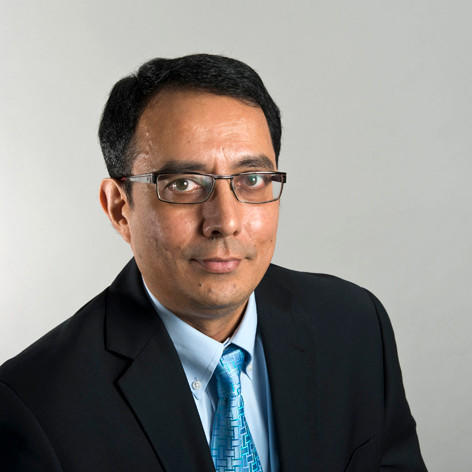 Mehbub KHAN
Market Manager, Power & Microelectronics, Singapore
Veolia Water Technologies

Contact Mehbub on his LinkedIn Profile
More services for our electronic and photovoltaic clients
Our team provides deionization services so you can focus on your core business with peace of mind.
A combination of digital tools and Veolia expertise that make all your water processes smarter, safer and more sustainable.
Providing water hygiene and HYDREXⓇ chemical solutions serving the performance of utility and water treatment equipment.
We provide a wide range of services to existing facilities including technical support, pre-planned preventive maintenance, spare parts, etc.
Veolia's offering of rental assets—to support and assist your site operations—for temporary and longer-term water treatment needs 24/7.
Resources 
To learn more about sustainable water management for the microelectronics industry, download our brochure. 
FAQ about water solutions for electronic and photovoltaics companies
What is Environmental Social Governance (ESG) and why is it important for the semiconductor industry to address sustainability?
Environmental Social Governance (ESG) can be defined as corporate governance and its impact on social and sustainability matters. Good ESG practices can help companies build resilience by getting them ready for the impact of pressing issues such as water scarcity. Businesses are also motivated to adopt ESG practices since it affects their ability to secure financing, as banks have increasingly incorporated it as an investment criteria to manage their risks. 
What are the essential treatment steps for ultrapure water (UPW) treatment?
An ultrapure water process typically requires multimedia filters (MMF) and activated carbon filters (ACF), reverse osmosis (RO), degasifiers, ion exchange and UV treatment.
What are the typical characteristics of high-quality ultrapure water (UPW)?
According to ASTM D5127 & SEMI F63 Guide for ultrapure water used in the electronics and semiconductor industries, below are the recommended standards: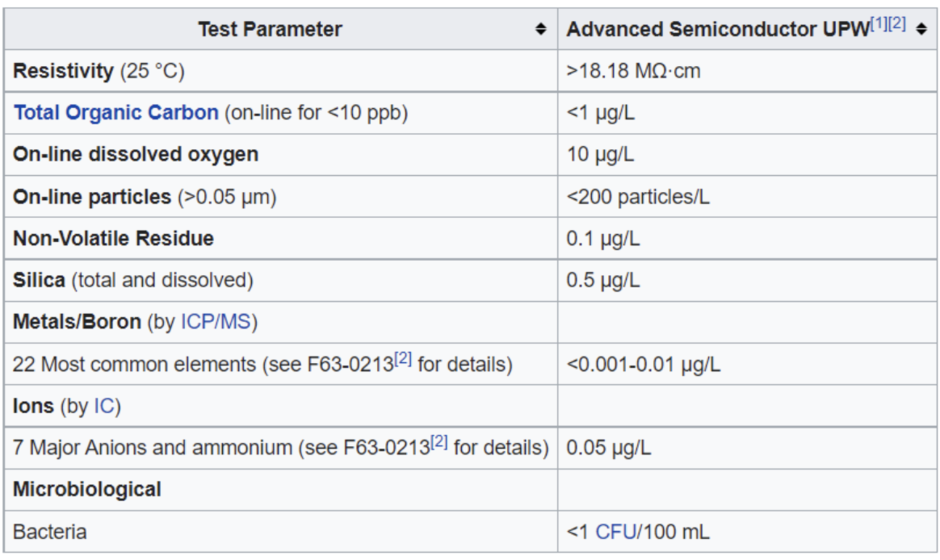 How can wafer yield be improved in the microelectronics industry?
Wafer yield is the industry's most critical parameter. Every new generation technology requires higher ultrapure water (UPW) quality and better monitoring systems due to the presence of "killer" particles or micro-contamination in ultrapure water that could cause physical damage to microelectronic components and ultimately result in costly device defects and rejects in production. Real-time monitoring and controlling of critical parameters would help both UPW engineers and process engineers better understand the correlation between impurities and wafer defects. This will allow manufacturers of the industry, particularly FinFet devices and nanowire-based devices, to move from managing product quality to controlling it.
What are the essential treatment steps within a PCB wastewater treatment process?
Electrolysis is typically deployed to treat dissolving CU wastewater whereas clarification (with Actiflo® for  instance) and ion exchange are commonly deployed for chelating CU wastewater streams. For organic wastewater, process engineers may consider using a membrane bioreactor (MBR).
How to remove TMAH and ammonia from wastewater streams?
TMAH and ammonia can be efficiently removed with a combination of the following technologies:
How to reclaim and recycle water without RO membranes?
Reverse osmosis (RO) membranes deployed in water recycling and reuse processes can be energy intensive. This has resulted in high CAPEX to implement and involve greater effort and OPEX to maintain such reverse osmosis and ultrafiltration membrane technologies. However, water recycling through non-membrane processes tends to be less costly and can better meet a company's sustainability and cost efficiency goals. In fact, Veolia's non-membrane solutions — such as the compact Actiflo® clarifier, Hydrotech™  Discfilter, and service deionization — offer up to 95% recovery, consume extremely low energy and require minimal chemicals. This allows businesses to save on energy and chemical consumption, reduce the need for clean-in-place or chemical-enhanced backwashes, and to address their ESG goals simultaneously.