THE CLIENT 
A large Medical Device Company which designs, manufactures and markets effective and innovative solutions. Their technologies and wide range of related products and services make them partners to healthcare providers in more than 100 countries. The client is building on a strong history of success to enhance the value they provide to healthcare providers and their patients.
 
THE CLIENT'S NEEDS
This Medical Device Company have a long established relationship with Veolia Water Technologies. In 2014 the client planned to develop a new manufacturing facility to cater for their expanding product demand.
The proposed site had a requirement for 2 different water qualities as defined in the client's global water specifications. The client engaged Veolia Water Technologies at an early stage in the design of the system. The key design requirements for the proposed water systems were as follows:
Compact Design to maximise plant room space
Process Redundancy in all treatment stages
All Pretreatment and Generation to be skidded to reduce installation time on site
Fast and Efficient sanitisation regimes for generation and storage distribution skids
High Recovery Rates for generation skids to minimise waste water.
 
THE SOLUTION
The Veolia Water Technologies Solution comprised of Duplex Pre-treatment skids feeding forward to two Hot Water Sanitisable Orion Generation system skids producing Highly Purified Low Endotoxin water.
Each Pre-Treatment Train consists of a self standing Raw Water Break Tank, Skid mounted Duplex Pumps, Duplex Sand Filters and Duplex Organic Scavengers. Each Orion generation skid comprises of  Softeners, Soft Water Break Tank, Hot Water Sanitisable RO, a Degasser, a CEDI and Ultra Filtration unit.
The skidding of the pre-treatment and distribution equipment  allowed for all mechanical and electrical installations on the skid to be completed off site. This enabled a greater level of testing of the skids off site and reduced the installation and testing time required on site.
The skidding of the pretreatment and distribution equipment coupled with the compact Orion Generation skid allowed the client to maximize the available space in the plant room.
The Orion Generation skid was selected for its sanitary design and the availability of hot water sanitisation of the complete flow path and ability to meet the clients specifications.
| | |
| --- | --- |
| Bacteria | ≤ 50 CFU/100ml |
| Bacterial Endotoxin | ≤ 0.25 EU/ml |
| Conductivity (Resistivity) |        ≥ 10.0 Mom/cm (≤  0.1 μS-cm) |
| Total Organic Carbon |        ≤500 ppb*          |
One of the key aspects of the design for the client was to have contingency in all areas. The design satisfied this requirement by incorporating duplex pre-treatment trains and duplex generation trains.
The project also included  a number of storage and distribution systems. The key requirement for the client was to have a storage and distribution system that could be sanitised quickly and effectively. After discussions with Veolia Water Technologies on options available, the preferred method of sanitisation was Ozonation.
The storage and distribution Systems consisted of two independent storage vessels and two ozonated distribution Loops. Each storage and distribution system consisted a of Storage Vessel c/w Vent Filter and Ozone Destruct Filter, Distribution Pump, Ozone Generator, 3 In line Ozone Sensors, Ambient Ozone Sensor, Ozone Destruct UV unit, Heat Exchanger, Instrumentation and Valves.
RESULTS
Since the System was qualified in 2015, the output quality is monitored on a weekly basis . The system has met and exceeded the required specification.  Samples are tested after the Orion generation skids and also from the Distribution loops. 
 
Actual Water Results on the Orion unit Outlet
Purified Water USP
Purified Water EP
WFI USP
WFI EP
Conductivity
<0.1uS/cm
≤ 1.3 µS / cm (25°C) 
≤ 1.1 µS / cm 
 (20 °C)
≤ 1.3 µS / cm 
(25°C)
≤ 1.1 µS / cm 
(20°C)
Bacteria
< 1cfu/100ml
< 100cfu/ml
< 100cfu/ml
≤ 10CFU/100 ml
≤ 10CFU/100 ml
TOC 
< 500ppb
  ≤ 500ppb
 ≤ 500ppb
≤ 500ppb
≤ 500ppb
Endotoxin
<0.125EU
N/A
N/A
≤ 0.25 EU / ml
≤ 0.25 EU / ml
Based on the water analysis sampled after the Orion Generations skids, the water meets and exceeds the requirement for Purified and WFI water for both the EP and USP monographs.
WFI Quality with Hot Water Sanitisable Reverse Osmosis, Electro Deionisation and Ultrafiltration membranes.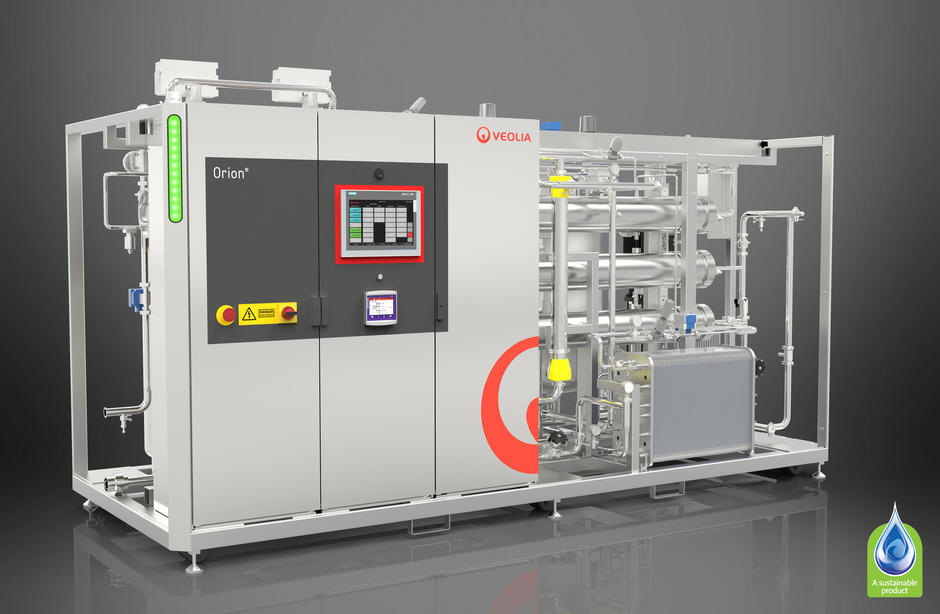 The Orion system operates 24/7/365 and consistently exceeds the specifications and our expectations. 
Client Facilities Manager