The client's needs
The client approached Veolia Water Technologies to carry out the design, installation and commissioning of a system for their soft-drinks concentrate production facility. The client needed a system capable of producing a large volume of Reverse Osmosis ingredient water with the capability for 24/7 production.

A key requirement for the client was a sustainable system that could meet food grade specifications. We were able to demonstrate our ability to meet these requirements with our Nurion reverse osmosis system.
The solution
The Nurion is a Reverse Osmosis system that produces ingredient water for infant formula and soft drinks.
A completely standardised and compact unit, NURION has been designed with clients expectations and high requirements in mind. It delivers RO-quality water fully compliant for the Ingredient Water market, avoiding the risk of microbial contamination in the final product. at a competitive price for a hygienic design product.

This system is fed by a pre-treatment system equipped with carbon filters & softeners. Nurion reverse osmosis permeate is directed to theclient's main holding tankto be used in an ingredient concentrate.Concentrate reject water is  sent to a Sirion Mega to be recycled andfed back into the Nurion.
 
Veolia Water Technologies implemented a system that met our requirements and surpassed our expectations. Veolia's flexibility and open communication throughout the project was key to its success.

Process description
Nurion uses components for the production of ingredient water, such as stainless steel piping, and controlled welding. It also respects EHEDG guidelines on the permeate line. These elements coupled with appropriate pretreatment, ensure microbial control and a highly consistent water quality with no unwanted tastes or odors in the final product.

The Nurion is available in 6 models, covering a wide range of flow rates from 5 to 25 m3/h. Six options are also available throughout the range, offering a complete solution that combines reliability and flexibility.
Results
The Nurion provided our client with a high quality, cost effective and reliable product for their new production facility.
The short commissioning time gave the client the capacity to generate large volumes of high quality ingredient water to ensure their increased production demands were met in a timely manner.
The client
The client is a leading multinational food and beverage company, producing a wide range of hot and cold drinks for consumption worldwide. The company opened a new Irish beverage concentrate manufacturing facility in 2021.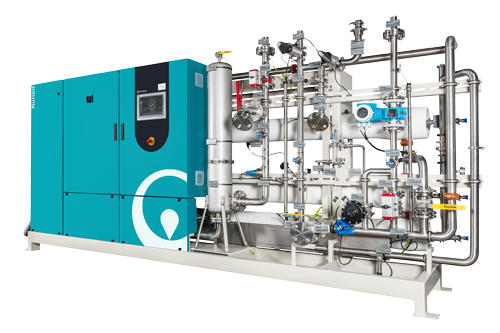 The benefits
Turnkey System
Designed to meet ingredient water industry requirements
High reliability of the product
Programmable user interface; simple operation, monitoring and storage
Stainless steel piping, fittings and valves on feed, reject and permeate line